DIY Artificial Grass Installation – The Pros and Cons
So you're wanting to incorporate artificial grass into your lawn or pet area but you're not sure whether to give the install the ole' college try or out-source the installation.
Below we will review some key truths behind the installation process as well as the pros and cons for each option to assist in your decision.
Don't be fooled by the tools, materials or process, artificial grass DIY is a very real, cash-saving option. Like any DIY project, all it takes is a little elbow grease, a time commitment, and a willingness to learn the steps needed.
With that said, here are a few 'truths' you must know before moving forward with a DIY artificial grass installation project.
Important Considerations
Before we get into specific pros and cons of DIY vs. hiring professional artificial grass installers, here are some things to consider.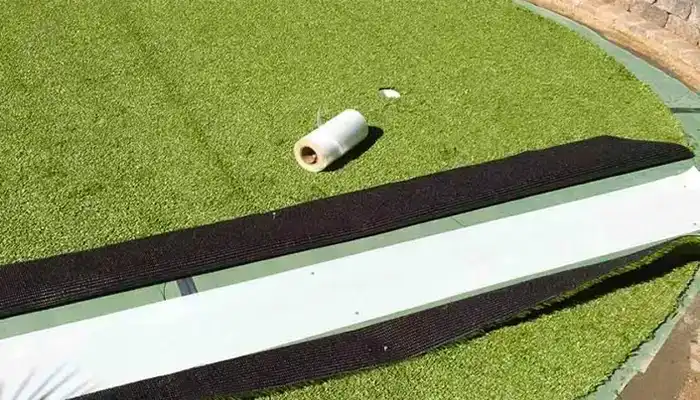 It's a lot like stamping a patio
The preparation and set-up is very similar to patio prep. The removal of the sod and dirt to achieve a consistent surface to lay the sub-base and turf on is critical. This is the most labor intensive part of the equation.
No prior landscaping skills are needed
As long as you have the right project support, materials ordered, and tools rented, you can knock your DIY project out of the park. A free guide to this support process can be sent by request. Ask the team at info@american-greens.com for more information.
Project size matters
Although artificial grass DIY is a great option for any project, if you have no dirt moving or machine operating experience, you will want to consider out-sourcing this step or the entire project. If your project requires more than 500-600 square feet of turf coverage, manually removing dirt and sod without machinery can be especially taxing. American Greens will help you source this service locally as a part of our DIY + Full Support Package.
You'll want some help
Unless your job size is under 500-600 square feet, or you have the luxury of taking your time to complete the project at your leisure, you will likely want some additional labor help.
DIY support is critical
Most artificial turf DIY projects that don't turn out as planned are due to lack of support from the turf provider. Because there are so many different turf projects (ie: Pet turf, artificial lawns, artificial putting greens, patio turf, playground turf, etc) the plan and support must match the goals and objectives of the DIY'er. Full service DIY tutorials, materials ordering, tool rental, a dedicated DIY agent, among other supporting elements are provided in a full DIY Support Package from American Greens.
Pros – DIY Benefits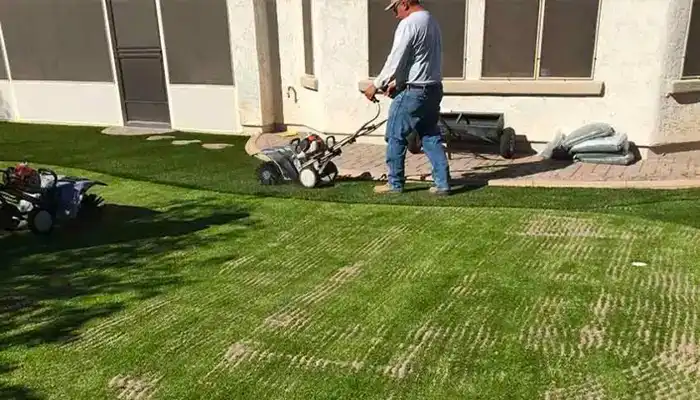 Save money
On average, electing to pursue DIY + Support will save you up to 60-70% on your turf installation project!
Flexible timeline
You can start, stop and finish the project at your leisure
Access to support
American Greens offers a DIY + Full Support package, which allows DIY'ers of all project scopes to plan and execute an installation with confidence.
Accomplishment
There is certainly a sense of accomplishment that cannot go without mention when completing your installation! You'll be able to look at and appreciate your work for many years.
Cons – DIY Disadvantages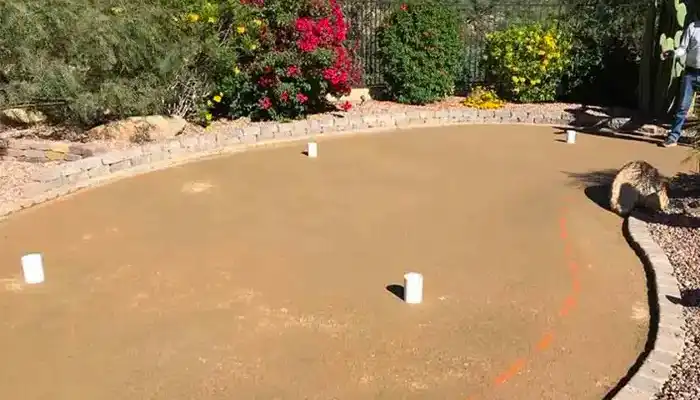 Project size limitations
Additional machinery rental and/or outsourcing will likely be needed depending on the job size and goals of the DIY'er.
Additional Labor
You will likely need additional help to complete your job (depending on job size)
Time consuming
Enlisting the help of a full service installation company will consolidate your project into a few days. Executing yourself can take upwards of a few weeks (depending on job size)
Physically demanding
Installation of synthetic turf is a physically demand undertaking. It involves shoveling, raking, and working with your hands – If you're not the type of person who involves a challenge/getting your hands dirty than this may not be right for you.
To Sum It Up
Artificial grass DIY can be very rewarding and save you up to 60-70% on your installation project. Regardless of your decision, American Greens has an option for every customer. With over 20 years of experience, we are among the only artificial grass companies to offer direct sales, full service installation, and a DIY + full support package. Supporting a DIY'er is critical and we pride ourselves in being one of the only suppliers in the US to offer DIY support. To compare our 3 levels of service, please reference the table below. If you have any questions, contact us here or give us a call at (877) 408-3636