Artificial Grass 101 – All About Synthetic Turf
Below we'll discuss the details of artificial turf (a.k.a fake grass, turf, synthetic turf, astro turf…etc.) and we'll talk about the process of installing turf, costs and some benefits. From the base below turf, to installation and top fill materials, this will give you a great overall understanding of what it looks like to actually install the turf material.
What Is Artificial Grass?
Artificial grass is made of colored plastic strands which are weaved through a tarp-like backing material. Each strand is secured in place on a large backing mat, sewing-like process to weave each of the fibers into the backing mat. A second and very important component to turf is what's called "infill material" – material applied on top of the turf mat – which helps to add weight and minimizes any shifting after the material is laid down.
Installation Guide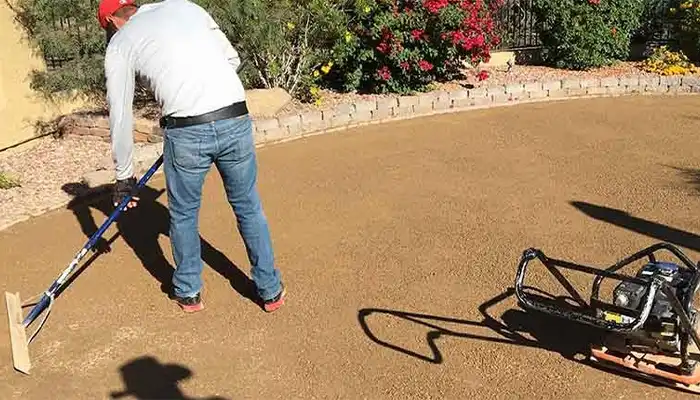 Pre-installation
Artificial grass installation can be pretty simple or rather complicated, depending on the conditions of the desired location. f the area is sloped, it might need to be landscaped to create a mostly flat area, particularly if you plan on installing putting green. Artificial turf can be applied on most slopes, but not all, due to the imminent threat of erosion. If your yard is sloped, there are many landscaping options to make a sloped yard work – especially if you're willing to get creative.
Preparation
Using the correct material and preparing the surface to be under the artificial grass is essential to it's durability. Removing all grass and large rocks or debris is very important. Water drainage is also a major factor to mitigate with almost every installation. Luckily, there is a material that works perfectly – Road base gravel. A layer of road base must be laid and very well-compacted before the artificial grass material is laid on top. This ensures erosion under the artificial grass is mitigated and the installation lasts for years to come.
Laying down material
There are several key tricks to installing the actual material, below is the basic process though. The grass is shipped in a large roll, which is then rolled out over the desired area. Next, steaks are placed along the edges of the mat, and if needed separate mats are joined together with seams. As noted above, there are many tricks and tips to an installation to make the grass look great and stand the test of time. If you need help with installation, consider our Diy + Full Support Option.
Pricing
Installing artificial grass can be done with a budget in mind, or it can be a costly process. Much of the cost is determined by the work that goes into preparation of the surface. If your yard requires a landscaping team to be hired to excavate, costs can build up pretty quickly. On the other hand your yard is already flat and just need a little work, costs will be much lower. Basically installation costs are 60-70% preparation and 30-40% cost in materials. Average costs are quite spread out between $5per sq ft, up to $15per sq. ft.. but as noted, a lot of the cost depends on the existing state of your yard.
Benefits
If you love your yard, the benefits outweigh the costs. Firstly, it will look great, year round. No matter the season the green stays! Secondly, you won't spend much time taking care of it. Aside from cleaning up after your pet and raking leaves, you won't have to spend countless hours mowing and trimming the grass. And last but certainly not least, installing artificial grass increases the value of your property. Check out this article by a realtor explaining the ins-and-outs of artificial grass in terms of property value.
Conclusion
An Artificial grass installation isn't for everyone but it can be made to work for a lot of different yards and budgets, especially if you're willing to do the work yourself – we have a diy+full support progam to help! If you'd like to have our team of professionals come out and perform the installation, see some more details on that process here.