Turf Infill for Artificial Grass – All About Silica Sand, Rubber, & More
Infill is an essential component to all artificial grass installations.
But what exactly is it, why do you need it, and should you use silica sand, rubber or something else?
Here is everything you need to know about turf infill for your upcoming artificial grass project.
What Is Artificial Turf Infill?
Artificial turf  infill refers to any granular material that is placed on top of the turf to fill the space between the blades of grass.
It's primary purpose is to add weight to the grass to keep it in place, protect it, and improve upon its natural look, feel, and performance.
Popular types of turf infill include sand, rubber, polyethylene, cork, and organic materials. Infill may also use a combination of these materials, referred to as hybrid systems.
Each type of infill has unique properties that make it appealing for specific use cases. In this article we explain the different types in-depth & what their applications are.
What Does Turf Infill Do?
Artificial grass turf infill provides a wide array of specific benefits, including:
It keeps the turf in place
The added weight from the infill is essential for providing stability to the turf, keeping it in place and preventing rippling. Without this added weight, the turf would likely shift or even become dislodged. It is especially important for applications with heavy foot traffic or aggressive use such as in athletic applications.
It provides an improved aesthetic
Infill material helps keep the artificial grass blades upright and retain their shape, mimicking the look and feel of a real, healthy lawn.
It provides cushion
Many infill materials such as rubber and synthetic fibers have shock-absorbing properties, leading to enhanced comfort, injury prevention, and a more natural feel.
It improves playability
Whether you will have kids playing in your backyard or are installing an athletic turf field, infill is essential for keeping the turf in place and providing an additional level of traction & support during play.
It can also help mimic the ball response of real grass. For example, on putting green turf it provides resistance to the turf in order to mimic true ball roll.
It aids in drainage
Turf infill helps drainage by keeping spaces between the grass blades, allowing the water to pass through more effectively. It acts as a reservoir, distributing water evenly and promoting vertical drainage.
It protects the turf
Turf infill also adds an extra layer of protection between foot traffic and the turf. It reduces friction, absorbs impact, evenly distributes weight to reduce wear and tear, and provides UV protection. All of these factors contribute to enhancing the longevity of the turf.
It can keep the turf cool
Some infill products such as cork and coconut fiber can help regulate the turf's temperature, further helping protect it and making it more appealing on hot days. There are also specially designed infills for regulating temperature, such as HydroChill and T-Cool brands.
It inhibits bacterial growth and pet odor
Many turf infill products contain antimicrobial properties that inhibit growth of bacteria, fungus, and algae. It can also help reduce pet odors.
The enhanced drainage that infill provides also aids in keeping the turf dry and clean.
What Are the Different Types of Turf Infill and What Are Their Uses?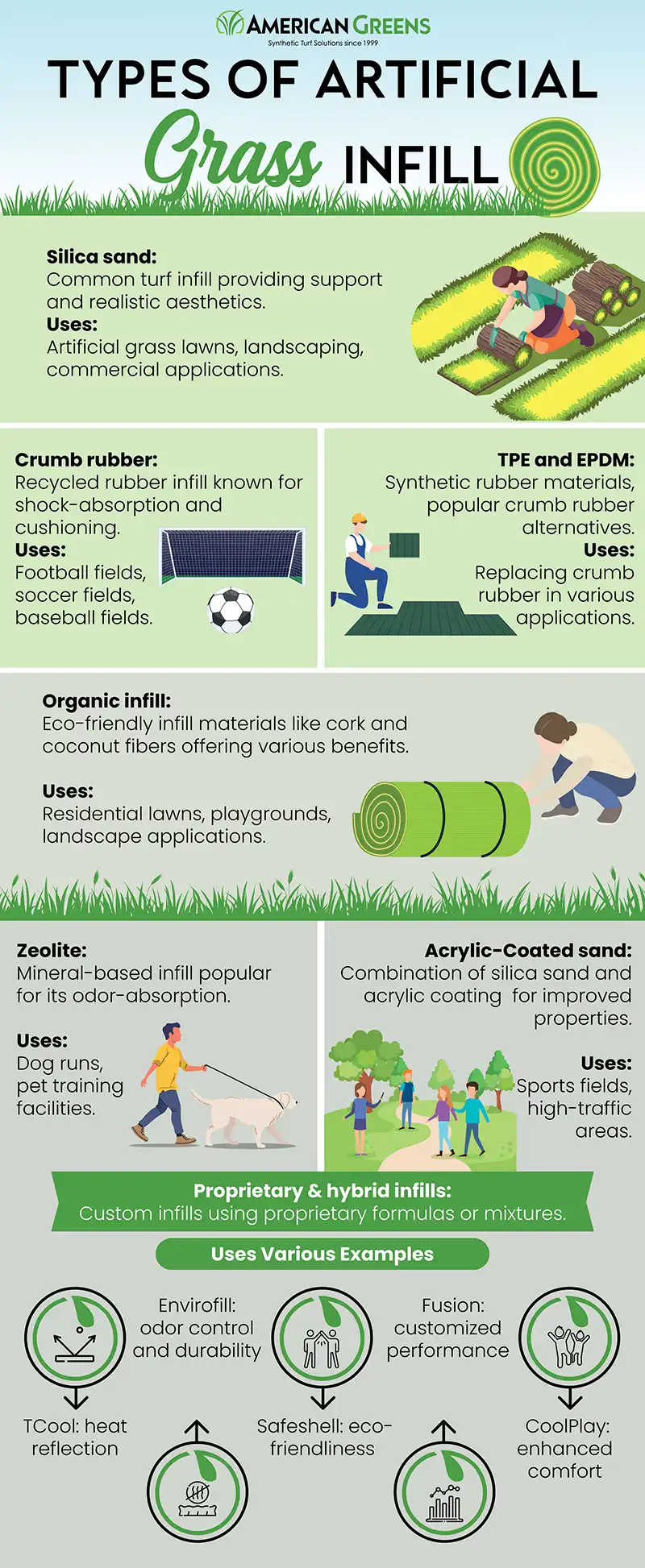 Each type of turf infill contains unique properties for its specific application. Here are the most common ones & what they're used for:
Silica sand
Silica sand is the most widely used turf infill. It's ability to provide support to the turf fibers and a lifelike aesthetic make it the infill of choice for artificial grass lawn, landscaping, and commercial applications.
Crumb rubber
Crumb rubber infill is made from recycled rubber. It's shock-absorption and cushioning properties make it a popular choice for athletic applications including football, soccer, and baseball fields. However, recent discoveries have raised concern over the potentially negative health and environmental impact of this material.
TPE and EPDM
Thermoplastic elastomer (TPE) and ethylene propylene diene monomer (EPDM) are synthetic rubber materials, offering the same benefit as crumb rubber with a perceived lower environmental impact and less health concerns. For this reason, these materials are growing in popularity as a replacement to crumb rubber infill.
Organic infill
Organic infill materials, such as cork or coconut fibers, are gaining popularity due to their natural properties and eco-friendly nature. They provide good shock absorption, temperature regulation, and moisture retention. Organic infills are commonly used in residential lawns, playgrounds, and landscape applications.
Zeolite
Zeolite is a mineral-based infill known for its odor-absorbing properties. It is often used in artificial turf for pets, such as dog runs or pet training facilities, to help control and neutralize pet odors.
Acrylic-Coated sand
Acrylic-coated sand infill combines the benefits of silica sand and an acrylic coating. It provides improved durability, better moisture resistance, and enhanced stability. Acrylic-coated sand infill is used in sports fields and high-traffic areas that require increased durability and performance.
Proprietary & hybrid infills
Some companies have curated custom infill products utilizing proprietary formulas, or mixing multiple of infills into one product (referred to as hybrid systems).
Some examples include:
TCool: A proprietary infill brand that reduces surface temperatures on artificial turf through advanced heat-reflecting technology.
Envirofill: An acrylic-coated sand infill brand that resists compaction, controls odors, and provides durability and stability to the turf.
Safeshell: A proprietary infill made from natural coconut fibers, offering shock absorption, temperature regulation, and eco-friendliness.
Fusion: A hybrid infill combining materials like sand, rubber, or organics to provide customized performance characteristics for the specific turf installation.
CoolPlay: A proprietary infill product designed to cool artificial turf fields by utilizing specialized additives and coatings for enhanced comfort.
These are just a few examples of custom infill products designed to enhance the benefits of turf infill even further.
Do You Really Need to Use Turf Infill?
For simple artificial turf applications that are purely aesthetic, temporary, or have minimal foot traffic, you may be able to get away without using infill.
However, it is pretty much a requirement under all other circumstances. The main reason is the added weight that the infill provides. Without it, your turf is very vulnerable to shifting, moving, rippling, tearing, or even becoming completely dislodged.
To be safe, we suggest always using infill. Whether you should use silica sand, rubber, or another type of infill will vary based on the specific application.
How Much Infill Will You Need for Your Artificial Grass Project?
The actually amount of infill to use will vary based on specific application, manufacturer guidelines, and personal preference. As a general guideline, infill quantities can range from 1.5 to 2.5 lbs per square foot of turf.
For example, let's say your manufacturer guidelines advise 2 lbs. of sand per square foot, and you have a 10,000 square foot artificial grass installation. In this example, you would need 20,000 lbs of sand. If you are buying your sand in 100 lb bags, you would need 200 bags. That's a lot of sand.
Where Can You Buy Artificial Grass Infill?
Artificial grass infill can be purchased from a variety of different vendors including local home improvement stores such as Home Depot or Lowe's, online retailers like Amazon, artificial grass manufacturers, and local artificial turf installers.
If you know what you're doing and are looking for the cheapest price, we suggest an online retailer.
On the other hand, working with an artificial grass specialist like a manufacturer or local installer will provide the added benefit of advanced product support and ensuring that you are buying the right product in the right quantities.
How Do You Apply Infill to Artificial Grass?
Once the artificial grass is installed into place, it is time to apply your infill. Here's how:
Spread the infill: Once the turf is securely in place, distribute the infill material evenly across the surface. This can be done manually using a shovel or spreader or with the help of specialized equipment, such as a drop spreader or power broom.
Brush and work the infill: Use a power broom, stiff brush, or rake to work the infill into the artificial grass fibers. This helps the infill penetrate the turf and settle between the blades for optimal performance and appearance.
Repeat the process: In some cases, it may be necessary to repeat the spreading and brushing process to achieve the desired level of infill coverage. This ensures that the infill is evenly distributed throughout the entire turf area.
Check infill levels: Verify that the infill is evenly distributed and at the recommended level specified by the manufacturer. This is crucial for proper performance, durability, and aesthetics of the artificial grass.
Those are the general guidelines, but may vary based on product type and application. It is important to follow the specific instructions provided by the manufacturer and consult with a professional prior to installing artificial grass and applying the infill.
Is Turf Infill Safe for Pets and Children?
In general, all infill products are considered safe for pets and children, as they have to meet specific rules and regulations. However, some concerns have been raised about the safety of certain rubber infills. For this reason, TPE and EPDM are usually recommended as a safer alternative to rubber.
Silica sand infill is also considered very safe, as it is an inert, natural material that does not pose health any known major health risks. However, some say that silica dust, a byproduct of the sand, may cause respiratory irritation if inhaled in excessive amounts.
While infills are generally considered safe and must meet extensive safety regulations in order to be sold and manufactured in the US, some may still have their concerns. The best way to ensure 100% safety is with an organic solution such as cork or coconut fiber infill.
How Often Do You Need to Add Infill to Artificial Grass?
The frequency of adding infill to your artificial grass will depend on factors like usage, weather conditions, and maintenance. As a general guideline, it's recommended to check the infill level annually and add more if needed. However, this can vary, so it's important to regularly monitor your turf's condition. Signs of compaction, unevenness, or reduced performance may indicate the need for infill top-ups.
Consulting with the artificial grass manufacturer or an installation professional can provide more specific recommendations based on your turf and usage patterns. Regular monitoring and maintenance will help ensure your artificial grass maintains its optimal performance.
How Do You Maintain Artificial Grass Infill?
Artificial grass as a whole doesn't require much maintenance. In fact, that's one of the major benefits of synthetic turf over traditional grass.
However, some steps can be taken toward maintaining your infill to ensure tip top performance, longevity, and aesthetics.
Here they are:
Brushing and Grooming: Periodically brush or groom the artificial grass to redistribute the infill and prevent matting or compaction.
Debris Removal: Remove leaves, dirt, and debris to prevent buildup and ensure proper drainage.
Controlling Weed Growth: Monitor and remove any weeds to maintain the integrity of the infill and prevent weed roots from penetrating the turf system.
Top-Ups: Periodically check the infill level and add more as needed to restore optimal performance and appearance.
Stain and Odor Control: Address stains or odors promptly using recommended cleaning methods.
Professional Maintenance: Consider professional maintenance, such as deep cleaning or power brushing, for optimal turf and infill condition.
The Bottom Line
Turf infill is an essential component to any artificial grass application. Among the many benefits, it provides stability, safety, longevity, and an enhanced overall aesthetic.
There are several types of infill, including silica sand, rubber, synthetic & proprietary products, and organic. The type that you choose will depend on your individual use case and personal preferences.
Regardless of your specific application, we always suggest that you consult with a professional prior to buying and installing your turf and infill.
At American Greens, we can help you out. Our expert installers know a thing or 2 about infill and would love to chat. Click here to send us a note!